10G-1U Modular Bypass Network TAP System
Brand: Garland Technology
Vanwege wereldwijde levertijden en fluctuerende voorraden kunt u de levertijd hier controleren.
Productspecificaties
Meer informatie

| | |
| --- | --- |
| Fabrikant | Garland Technology |
| Art.nr. | GAR-M10G1ACv2 |
Productomschrijving
Network test access points (TAPs) are hardware tools that allow you to monitor and access your network. Bypass TAPs (active TAPs) are typically used with in-line, active security appliances such as next generation firewalls and intrusion prevention systems. Garland Technology bypass TAPs are purpose-built hardware devices that let you see every bit, byte and packet.®

Bypass TAPs are used to connect a monitored network segment to an in-line active appliance and monitor the device's health. If your security device goes off-line for any reason the bypass TAP will automatically 'switch to bypass mode' keeping your network link up while you to resolve the issue.
Securely TAP a 10G circuit and convert to SR, LR and ER.
Take your appliance off line without interrupting data traffic for: updates, maintenance and troubleshooting.

Guarantee 100% production circuit uptime with appliance heartbeat and dual internal power supplies.

House up to four (4) TAPs in a 1U chassis.
Network Failsafe Technology: during failsafe in-line appliances still receive packets. Garland failsafe technology recognizes power outages and automatically closes the relay circuitry in less than eight milliseconds then reconnects the two network devices connected to ports A and B
Bypass TAPs are fully configurable and support multiple modes: breakout, aggregation, regeneration/SPAN and bypass
100% secure and invisible; no IP address, no Mac address; cannot be hacked.

Configure and manage remotely or locally.

Support for packet injection, jumbo frames, link failure propagation with TACACS, SNMP and Syslog.

TAP modules are field upgradable.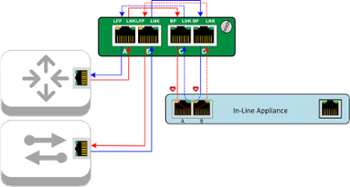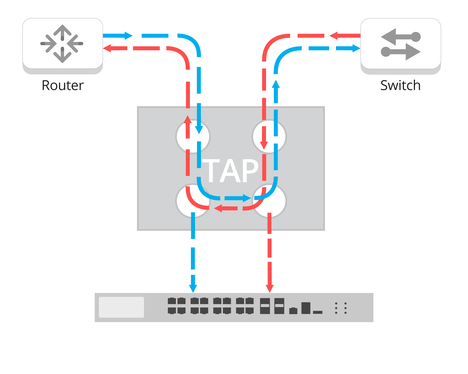 Model Numbers and Complete Specifications:
Model No.
Description
M10G1ACv2
10G-1U Chassis System: Supports up to 4 modular Bypass TAPs. Dual internal AC power supplies. Voltage: 85 - 264 Volts, 100 Watt total power consumption with 4 TAPs.
M10G1DCv2
10G-1U Chassis System: Supports up to 4 modular Bypass TAPs. Dual internal DC power supplies. Voltage: 36 - 72 Volts; 100 Watt total power consumption with 4 TAPs.
Model No.
Network Speed
Bypass TAP Module
Network Media
Monitor Media
M10GMSBPv2
10G
SR Multi-mode Fiber
2 SR Multi-mode, LC Fiber
2 SFP+ Cages
M10GSSBPv2
10G
LR Single-mode Fiber
2 LR Single-mode, LC-Fiber
2 SFP+ Cages
M10GESBPv2
10G
ER Single-mode Fiber
2 ER Single-mode, LC-Fiber
2 SFP+ Cages