1G Copper High Density Aggregator
Brand: Garland Technology
1G Copper High Density Aggregator
Breakout, Aggregation, Regeneration/SPAN modes
En raison des délais de livraison dans le monde entier et de la fluctuation des niveaux de stock, veuillez vérifier le délai de livraison ici.
Product specifications
Plus d'infos

| | |
| --- | --- |
| Manufacturer | Garland Technology |
| Réf. | GAR-INT1G10CSA |
Product description
1G Copper High Density Aggregator
Breakout, Aggregation, Regeneration/SPAN modes
Network test access points (TAPs) are hardware tools that allow you to access and monitor your network. Aggregating TAPs are used to capture 100% full duplex traffic; the traffic can then be sent to multiple monitor appliances to analyze your network. Aggregating TAPs are purpose-built hardware devices that let you see every bit, byte and packet.®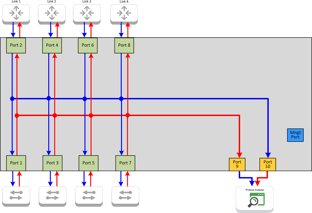 Aggregation TAPs support breakout and regeneration/SPAN modes providing flexibility to manage your network.
1U High Density Solution:
-TAP up to 4 network segments
-Aggregate traffic to 1 or 2 monitoring ports
-Can fit to 2 INT1g10CSA units in 1U space
Link Speed Synchronization.
Link Failure Propagation (LFP).
Supports breakout, aggregation and regeneration/SPAN modes.

Supports Jumbo frames.

Passes physical errors.

Dual internal AC power supplies.

100% secure and invisible; no IP address, no Mac address; cannot be hacked.
Model Numbers and Complete Specifications:
Model No.
Network Speed
Media
Modes

Network

Monitor

Breakout

Aggregation

Regeneration

Bypass

INT1G10CSA
1G
4 Copper-RJ45
2 SFP
x
x
x
N/A